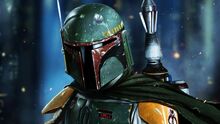 Boba Fett
 was a male human bounty hunter, and the genetic clone of infamous bounty hunter Jango Fett. Boba was created by the cloners on Kamino and was physically identical to the clone troopers created for the Grand Army of the Republic, though Boba was unaltered and did not grow at the same accelerated
rate as the other clones. Raised as Jango's son, Boba learned the combat skills necessary to one day become a bounty hunter in his own right.
Jango was killed during the Battle of Geonosis, which sparked the Clone Wars between the Galactic Republic and the Confederacy of Independent Systems. The young boy swore vengeance against Jedi Master Mace Windu, who killed Jango, and teamed with a group of bounty hunters that included Aurra Sing and Bossk. Their plot to kill Windu failed, and Boba realized that he had gone too far in trying to kill the Jedi Master—but he vowed never to forgive Windu. After serving a brief prison sentence, Boba formed a team of bounty hunters and took on a number of missions.
Appearance
He can be seen in the crowd of Oasis civilians along with Kylo Ren.