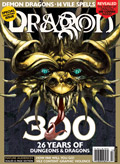 Dragon is one of the two official magazines for source material for the Dungeons & Dragons role-playing game and associated products, the other being Dungeon.
TSR, Inc. originally launched the monthly printed magazine in 1976 to succeed the company's earlier publication, The Strategic Review. The final printed issue was #359 in September 2007. Shortly after the last print issue shipped in mid-August, 2007, Wizards of the Coast (part of Hasbro, Inc.), the publication's current intellectual property rightsholder, re-launched Dragon as an online magazine, continuing on the numbering of the print edition. (Issue #395 was published in January 2011.)
Ad blocker interference detected!
Wikia is a free-to-use site that makes money from advertising. We have a modified experience for viewers using ad blockers

Wikia is not accessible if you've made further modifications. Remove the custom ad blocker rule(s) and the page will load as expected.