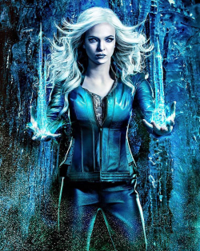 Killer Frost is a criminally insane supervillainess from DC Comics, who (as her name implies) has control over the cold - she is a mass murderer and very dangerous (even by superviilain standards): as well as appearing in comic books she has been involved in the DC animated universe and video-games such as Justice League Heroes.
Crystal Frost was the first, Louise Lincoln (voiced throughout the DC animated universe and other projects by Jennifer Hale) was the second and Caitlin Snow was the third.
Appearance
She can be seen at the Oasis Nightclub along with Deathstroke, Doctor Fate, Poison Ivy, Wonder Woman, Joker and Harley Quinn.