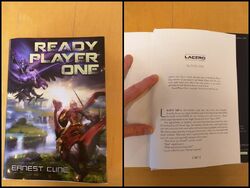 "

You seek solutions to the gates,
But know you what reward awaits?
Like Kirk, Scott, and Chekov, too
The genesis is all for you

"
Lacero is a short story about Nolan Sorrento set within the OASIS universe, written by Andy Weir—the bestselling author of The Martian. Originally written as a fanfiction, the author published it online for all fans to see. However, Ernest Cline read the fanfiction and decided that the work would officially become "canon" and included at the end of the Subterranean Press version. [1]
The story tells a origin tale of Nolan Sorrento and why he decided to join IOI. It can be read online on Galactanet.
Appearances
Edit
Characters
Edit
Locations
Edit
Pop culture references
Edit
Characters
Edit
References
Edit
Ad blocker interference detected!
Wikia is a free-to-use site that makes money from advertising. We have a modified experience for viewers using ad blockers

Wikia is not accessible if you've made further modifications. Remove the custom ad blocker rule(s) and the page will load as expected.