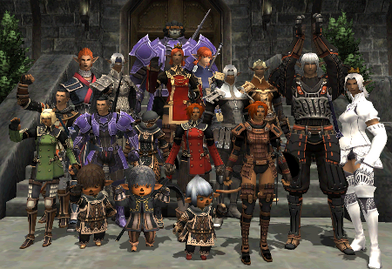 A
massively multiplayer online game
(also called MMO and MMOSG) is a multiplayer video game which is capable of supporting large numbers of players simultaneously. By necessity, they are played on the
Internet
.
Many games have at least one persistent world, however others just have large numbers of players competing at once in one form or another without any lasting effect to the world at all. These games can be played on any platform, be it the personal computer, a game console such as the internet capable PSP, PlayStation 3, Xbox 360, Nintendo DS, PS Vita, Wii U or Wii, or the OASIS.
MMOSGs can enable players to cooperate and compete with each other on a large scale, and sometimes to interact meaningfully with people around the world. They include a variety of gameplay types, representing many video game genres.
Ad blocker interference detected!
Wikia is a free-to-use site that makes money from advertising. We have a modified experience for viewers using ad blockers

Wikia is not accessible if you've made further modifications. Remove the custom ad blocker rule(s) and the page will load as expected.