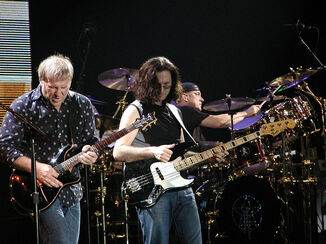 Rush
is a
Canadian
rock band formed in August 1968, in the Willowdale neighbourhood of Toronto, Ontario.
The band is composed of bassist, keyboardist, and lead vocalist Geddy Lee, guitarist and backing vocalist Alex Lifeson, and drummer, percussionist, and lyricist Neil Peart. The band and its membership went through several re-configurations between 1968 and 1974, achieving their current form when Peart replaced original drummer John Rutsey in July 1974, two weeks before the group's first United States tour.
Rush had been Halliday's favorite band, from his teens onward. He'd once revealed in an interview that he'd coded every single one of his videogames (including the OASIS) while listening exclusively to Rush albums. He often referred to Rush's three members—Neil Peart, Alex Lifeson, and Geddy Lee—as "the Holy Trinity" or "the Gods of the North."
Ad blocker interference detected!
Wikia is a free-to-use site that makes money from advertising. We have a modified experience for viewers using ad blockers

Wikia is not accessible if you've made further modifications. Remove the custom ad blocker rule(s) and the page will load as expected.