Steven Spielberg
Biographical information
Full Name
Steven Allan Spielberg
Date of Birth
December 18, 1946
Nationality
American
Gender
Male
Attribution information
Directed
Jurassic Park
Jaws
Raiders of the Lost Ark
E.T. the Extra-Terrestrial
Ready Player One (film)
Produced
Poltergeist
Schindler's List
A.I. Artificial Intelligence
Written
Composed
[Source]

Steven Allan Spielberg (D.O.B. December 18, 1946) is an American director, producer and screenwriter, best known for directing science fiction and adventure films. Some of his most noticeable works are Jurassic Park, Jaws, Raiders of the Lost Ark and E.T. the Extra-Terrestrial. He will also be directing the film adaptation of Ready Player One.
Early Life
Spielberg is a Jewish film director and was born on December 18, 1946 in Cincinnati, Ohio. His mother, Leah (née Posner, later Adler; January 12, 1920 – February 21, 2017), was a restaurateur and concert pianist, and his father, Arnold Spielberg (born 1917), was an electrical engineer involved in the development of computers.
As a child, Spielberg faced difficulty reconciling being an Orthodox Jew with the perception of him by other children he played with. "It isn't something I enjoy admitting," he once said, "but when I was seven, eight, nine years old, God forgive me, I was embarrassed because we were Orthodox Jews. I was embarrassed by the outward perception of my parents' Jewish practices. I was never really ashamed to be Jewish, but I was uneasy at times."[16] Spielberg also said he suffered from acts of anti-Semitic prejudice and bullying: "In high school, I got smacked and kicked around. Two bloody noses. It was horrible."[17] His first home movie was of a train wreck involving his toy Lionel trains, then age 12. Throughout his early teens, and after entering high school, Spielberg continued to make amateur 8 mm "adventure" films.
In 1958, he became a Boy Scout and fulfilled a requirement for the photography merit badge by making a nine-minute 8 mm film entitled The Last Gunfight. Years later, Spielberg recalled to a magazine interviewer, "My dad's still-camera was broken, so I asked the scoutmaster if I could tell a story with my father's movie camera. He said yes, and I got an idea to do a Western. I made it and got my merit badge. That was how it all started." At age thirteen, while living in Phoenix, Spielberg won a prize for a 40-minute war film he titled Escape to Nowhere, using a cast composed of other high school friends. That motivated him to make 15 more amateur 8mm films. In 1963, at age sixteen, Spielberg wrote and directed his first independent film, a 140-minute science fiction adventure called Firelight, which would later inspire Close Encounters. The film was made for $500, most of which came from his father, and was shown in a local cinema for one evening, which earned back its cost.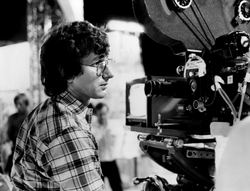 After attending Arcadia High School in Phoenix for three years, his family next moved to Saratoga, California, where he later graduated from Saratoga High School in 1965. He attained the rank of Eagle Scout. His parents divorced while he was still in school, and soon after he graduated Spielberg moved to Los Angeles, staying initially with his father. His long-term goal was to become a film director. His three sisters and mother remained in Saratoga. In Los Angeles, he applied to the University of Southern California's film school, but was turned down because of his "C" grade average. He then applied and was admitted to California State University, Long Beach, where he became a brother of Theta Chi Fraternity.
Early Career
After Steven graduated from California State University, he pursued his career of being a filmmaker and created several amateur films during the 1950s and 1960s. With his first film being George and his last film before his making of theatrical releases being Fireflight.
On directing Ready Player One
Spielberg is captivated by the story's take on a mostly virtual future, because he sees a lot of the building blocks for that future falling into place now. His approach is looking to balance the morality, as well as the more fantastic aspects of the film, as Spielberg laid out his approach as follows: 
Trivia
Having an estimated net worth of 3.7 Billion dollars, Steven Spielberg is the highest paid filmmaker of all time.
Spielberg dropped out of college and pursue his dream of film making. He was however, enrolled into California State University and took film making programmes.
Spielberg's one and only wife, Kate Capshaw, is the actress who played the female lead in his movie Indiana Jones and the Temple of Doom.
References